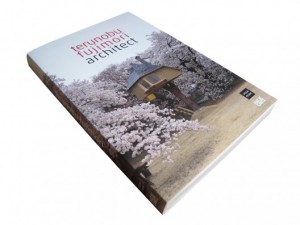 A one-legged Shou sugi ban teahouse suspended amid cherry trees in the Japanese mountains showcases the vivid imagination and designs of architect Terunobu Fujimori. Conceiving his first creation at the age of 42, Fujimori is considered one of the world's first surrealists in his field. Working solely with natural materials such as earth, wood and stone, the modern eccentric has dedicated his career to pioneering contemporary design with buildings "that float in the air" and roofs covered with living leek plants. Curating the Japanese Pavilion at the Venice Biennale in 2006, Fujimori invited audiences to remove their shoes and enter the exhibition through a hole in a wooden wall to sit in a simple straw hut.
"A building should not resemble anyone else's buildings, past or present, or any style that has developed since the Bronze Age," he explains of his fairytale structures.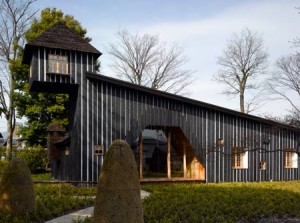 His sophisticated designs are fascinating: archaic, eccentric, poetic, and ecological, almost all of them are made of simple, traditional materials such as earth, stone, cedar wood, coal, bark, and mortar. His architecture appeals to primordial instincts, promising warmth and protection. His structures serve as role models for a generation of young international architects who value a mode of building that is ecological, historically aware, and sustainable.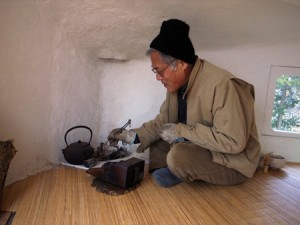 Born in 1946, Terunobu Fujimori ( 藤森 照信 ) began his career as a leading historian of modern Japanese architecture. Then three decades later, at age 42, he embarked upon a new career – to design his own style architecture. Since then, he has created a number of original buildings offering continual surprises to the world of architecture. Many are teahouses, which play an important part in Fujimori's work – it's the one element of Japanese culture to which he consistently returns.
Whereas his contemporaries – "starchitects" like Tadao Ando and Toyo Ito, who he counts as close friends – embrace Japanese simplicity, conceptualism and new materials, Fujimori prefers eccentricity, tradition, character and natural elements local to the sites at which he works (mud, wood, stone and, often, living plants).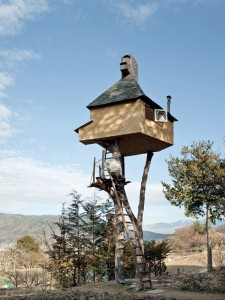 In a pioneering architectural career now spanning 20 years, the architect has created many Shou sugi ban projects that are exercises in playful experimentation and sophisticated craft, here are three:
Too Tall Teahouse (2003), built in his father's back garden incidentally suspended 20 metres above the ground.
Roof House (2009) is especially interesting: the exterior walls consist of a black-and-white striped skin clad in shou sugi ban (carbonised cedar wood beams) and plaster over a reinforced concrete framework. The roof, meanwhile, is clad with hand-bent copper tiles to create the appearance of a neo-primitive hut.
Charred Cedar House (2007), as the name implies, is entirely clad in shou sugi ban charred cedar boards, which have been treated with an ancient Japanese technique that seals the wood against rain and rot.
From Dwell's Beyond Green magazine, read more about Terunobu Fujimori in an in-depth interview of this modern eccentric architect with an artistic sensibility drawn from ancient Japanese traditions.
Or for a special gift, pick up the comprehensive monograph, Terunobu Fujimori: Architect, which is illuminated by personal drawings, photographs and his own intimate words.