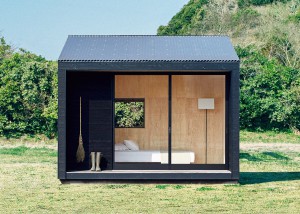 Japanese retailer Muji has entered the small living scene with a tiny new hut. Featuring an attractive minimalist design, the Muji Hut is about as basic as it gets, but could suit those looking for a simple cabin in the woods, a home office, or guest accommodation.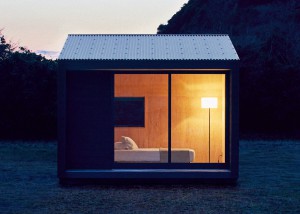 The Muji Hut has a total floorspace of 97 sq ft inside, but there's also a small porch area that adds another 32 sq ft of space. The exterior is Shou Sugi Ban-treated cedar.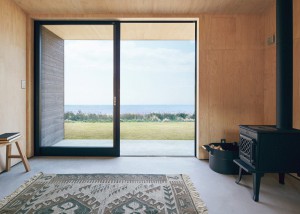 Shou Sugi Ban, which is a centuries-old Japanese technique of charring wood to preserve it, used to be rather exotic in the small living movement but is now proving quite popular and a few recent examples of tiny houses that make use of Shou Sugi Ban include Escape's One, Alpine Tiny Homes' Tiny Giant, and the Greenmoxie.
The interior is clad in unfinished Japanese cypress plywood and insulation is polystyrene foam, which seems to be installed in the ceiling only. The windows are also only single pane, so the Muji Hut doesn't look suited to harsh climates at all. The hut also requires reinforced concrete foundations and there's no power or plumbing installed.
The interior is very simple and comprises just one room, ready for owners to add as much or little as they need. It could be furnished with a bed and wood-burning stove (as pictured) and handy types would likely be able to install a small kitchenette, portable toilet, and solar panels without issue. It's probably never going to match up to more fully featured options, like the Vista Sport. However, it's not really meant to.
"Who hasn't dreamed of living somewhere they really want to be?" says the promotional material. "The tools to make that dream a reality are now available. It's not as dramatic as owning a house or a vacation home, but it's not as basic as going on a trip."
Small but spacious
The interior is compact at 97 sq ft, but the porch and the high shed roof create a space large enough for 3–4 people to relax in. The large window at the entrance was originally made to be a shop's sliding door. Light and wind visit through another smaller window.
Traditional craftwork
All of the wood used for the hut is from Japan. The outer walls are given enhanced antiseptic properties and durability by applying burned hardwood cladding. This is borrowed from the traditional art of Japanese shipbuilding, where builders burn cedar wood to increase its strength and add an oil stain finish. The inner wall surfaces are left untreated so you can design the interior any way you like.
Simple design makes everything easy
The MUJI Hut has a raft foundation, which is the type used in ordinary homes. It provides strength and guards against ground moisture. The mortar floor surface is left as is. Even in dirt-prone environments, the floor can be used freely like an earthen floor. Since the floor surface is nice and smooth, cleaning is easy, and flooring or rugs can be laid anywhere to suit your taste.
The Muji Hut will be available from Q3 this year, for ¥3,000,000 (roughly US$27,000), including construction. For now, shipping is restricted to Japan only.